Τώρα είναι 24 Φεβ 2020, 14:43 • Όλοι οι χρόνοι είναι UTC + 2 ώρες
---
---
---
---
Ανακοινωθηκε επισημα το Ubuntu για tablets
Η έκδοση Ubuntu for Tablets θα είναι διαθέσιμη μαζί με αυτήν για smartphones από μεθαύριο - 21 Φεβρουαρίου 2013 - για developers καθώς θα μπορεί να εγκατασταθεί και σε Nexus 4/7/10, αλλα θα πρέπει να περιμένουμε εως το 2014 για να δούμε τις πρώτες ταμπλέτες με αυτό το λειτουργικό.
More info:
http://www.ubuntu.com/devices/tablet
Tablet Ubuntu hands-on | Engadget
Moderator
Δημοσιευσεις : 6860
---
Απο iOS και Android που έχω δοκιμάσει για αρκετό καιρό, μαλλόν θα προτιμήσω το πρώτο για την ευκολία του και για το δέσιμο που έχει σε σχέση με το δεύτερο που είναι λίγο πιο πολύπλοκο για να το μάθεις και κάθε συσκευή έχει διαφορετικά settings, ανάλογα και με το ποια έκδοση τρέχει...
Δημοσιευσεις : 28
---
---
Samsung officially retiring Bada, will make Tizen phones instead
We've assumed the fact for awhile and we've even heard, but this time it's official.
Samsung is sacking its Bada OS but instead of sweeping its remains under the carpet, the Korean manufacturer will integrate its work on Bada OS into the Tizen OS project. The information comes straight from Korea, courtesy of Hong Won-pyo, President of Samsung's Media Solutions Center.
Though smartphones running on Bada won't be able to upgrade to Tizen when it's ready, the latter will be backwards compatible with Bada apps, which is good news for every new OS with a low profile app catalog.
After Nokia and Intel's MeeGo's promising start and saddening downfall, Tizen OS was formed as an open source project. Now Samsung is focusing on using Tizen OS as a platform, which can differentiate the manufacturer from the rest of the Android and Windows Phone crowd.
Samsung has expressed that it will release multiple devices running Tizen this year.
LG buys webOS from HP for use in smart TVs
We might not be seeing new phones, but webOS is still alive in some form, at least: LG has reportedly agreed to buy the rights to the OS from HP and use it in smart TVs. According to CNET, the Korean manufacturer has acquired source code, employees, patents, and more in the deal, of which financial details are yet to be disclosed. Last year we heard that LG was working on a smart TV based on Open webOS and hoped to show it off at CES — that didn't come to pass, of course, but it turns out there was some truth to the rumors.
"There was some truth to the rumors"
Scott Ahn, LG's president and chief technology officer, says "It creates a new path for LG to offer an intuitive user experience and internet services across a range of consumer electronics devices." There's no indication of whether the deal will affect the Smart TV Alliance, which LG helped set up last year in an attempt to provide a unified software ecosystem for connected televisions; Toshiba and Panasonic are also members of the group.
The webOS team will reportedly set up base in LG's new Silicon Valley facilities, though CNET notes that many who worked on mobile products for HP after the webOS acquisition have already left the company. It seems that while LG has no intention to move away from Android for use in its own phones, its experience with Google TV left a lot to be desired.
Windows Phone Store now hosts more than 130,000 apps, Elop says
At Nokia's press conference here at MWC, CEO Stephen Elop announced that the number of available Windows Phone apps has reached and surpassed the 130,000 milestone.
Popular new additions include the WhatsApp cross-platform messaging client, as well as the re-branded HERE suite of navigation and mapping applications.
It's no secret that Nokia banked in all their chips with Microsoft's budding mobile OS, and hope to draw smartphone users to their Windows Phone 8-powered Lumia handsets by offering the more popular apps from Android and iOS.
While Windows Phone still cannot rival the app libraries of the big dogs Android and iOS (both of which have over 700,000 total apps as of last October), this news bodes well for users looking to switch to the new OS, and are worried about the smaller number of apps.
Moderator
Δημοσιευσεις : 6860
---
Το event θα πραγματοποιηθεί στο «αρχηγείο» του Facebook στις 4 Απριλίου, στο Menlo Park.
Δημοσιογράφοι απ' όλο τον κόσμο που ασχολούνται με την τεχνολογία άνοιξαν τα inbox τους νωρίτερα και είδαν μία πρόσκληση από το Facebook, για την 4η Απριλίου που λέει: Ελάτε να δείτε το νέο μας σπίτι στο Android.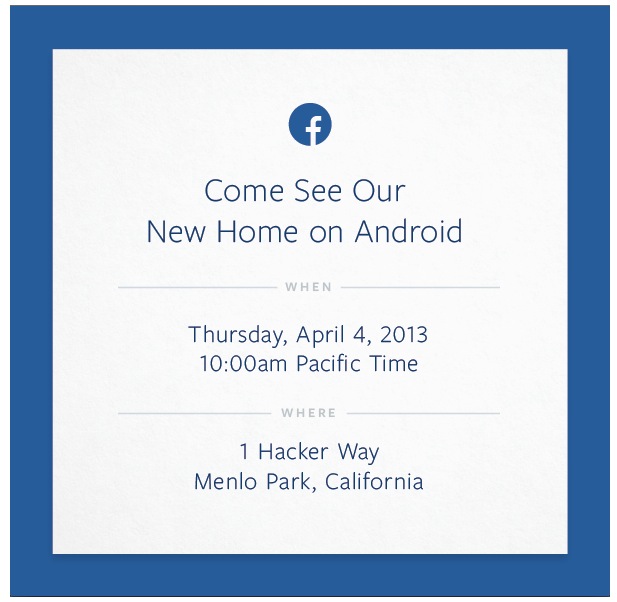 Αν και αρχικά θεωρήθηκε πως η ανακοινωση θα αναφέρεται σε κάποια καινούργια Android εφαρμογή του, ενισχύονται οι εικασίες ότι το κοινωνικό δίκτυο θα ανακοινώσει ένα Facebook smartphone, πιθανότατα σε συνεργασία με την HTC. Ωστόσο άλλες εικασίες μιλούν για ένα νέο customized ΛΣ που βασίζεται στο Android, αλλά που έχει και τέτοια ενσωμάτωση του Facebook που, κανείς δεν θα μπορεί να δει τη διαφορά. Και σε αυτή την περίπτωση, είναι πολύ πιθανόν, να δούμε και μία Android facebook-based συσκευή να παρουσιάζεται την 4η Απριλίου.
Άλλωστε, σχεδόν το ήμισυ των χρηστών του, είναι «κινητοί»...
Δημοσιευσεις : 169
---
'Star Wars: Knights of the Old Republic' now available on iPad
Α decade after its original release, BioWare's Star Wars: Knights of the Old Republic has come to the iPad. The game was one of the best RPGs released on the Xbox, and is quite possibly the best Star Wars game around. But beyond its strong gameplay, the title was lauded for having a better story than the two Star Wars prequels released shortly before it. IGN got an early look at the new port, and while they found that movement controls were clunky on the iPad, the experience as a whole remained the same, if not better, on the touch controls. It's available now for $9.99 and was ported by Aspyr Media, which previously brought the title over to OS X.
https://www.theverge.com/2013/5/30/4379288/star-wars-kotor-rpg-comes-to-ipad
Moderator
Δημοσιευσεις : 6860
---
---
Μελη σε συνδεση
Μέλη σε αυτή την Δ. Συζήτηση : Δεν υπάρχουν εγγεγραμμένα μέλη και 1 επισκέπτης