Τώρα είναι 24 Φεβ 2020, 14:48 • Όλοι οι χρόνοι είναι UTC + 2 ώρες
---
Samsung Galaxy S IV
Οθόνη
4.99" Super AMOLED Full HD (1920 x 1080) με Gorilla Glass 3
Επεξεργαστής
octo-core Samsung Exynos 5410 / Qualcomm 600 1.8GHz
Επεξεργαστής γραφικών
PowerVR SGX 544MP GPU
Μνήμη
RAM 2GB
Αποθηκευτικός χώρος
16GB/32GB (επέκταση με microSD έως 64GB)
Κάμερα
13MP με LED flash
Εμπρόσθια κάμερα
2.1MP
Έκδοση
dualSIM
WiFi, 4G LTE, Bluetooth 4.0, GPS, NFC
Λειτουργικό σύστημα
Android 4.2 Jelly Bean
Μπαταρία
2600mAh
Πάχος
7.9mm
Βάρος
130gr
Moderator
Δημοσιευσεις : 6860
---
Αυξάνεται συνεχώς η διείσδυση των smartphones στην Ελλαδα
Περίπου στο 30% εκτιμάται η συνολική διείσδυση των έξυπνων συσκευών κινητής τηλεφωνίας (smartphones) στη χώρα μας. Σύμφωνα με στοιχεία από την αγορά της κινητής τηλεφωνίας, που συνέλεξε το infocom.gr, το 2012 το 44% των συσκευών που πουλήθηκαν ήταν smartphones, έναντι του 31% το 2011.
Επίσης, το Νοέμβριο και το Δεκέμβριο πέρσι ένα στα δύο τηλέφωνα που πουλήθηκαν ήταν smartphone. Με βάσει τα ίδια στοιχεία οι πωλήσεις των Android πέρσι αυξήθηκαν κατά περίπου 12%, ενώ αντίθετα οι πωλήσεις Apple iPhone μειώθηκαν κατά 11%.
Σημαντική ήταν η μείωση σε Symbian, Blackberry, ενώ αύξηση σημειώθηκε στα Windows.
Εκτιμάται ότι ποσοστό μεγαλύτερο του 50% των πωλήσεων smartphones ήταν με τιμή μικρότερη των 150 ευρώ και 16% με τιμή μεγαλύτερη των 500 ευρώ. Εμφανίζεται δηλαδή πόλωση, προφανώς εξαιτίας της οικονομικής κρίσης, με τους καταναλωτές να συγκεντρώνονται στα άκρα, καθώς η πλειονότητα προτιμά συσκευές ως 150 ευρώ, ενώ όσοι διαθέτουν κάτι παραπάνω επιλέγουν κυρίως το iPhone.
Η συνεχώς αυξανόμενη τάση προς τα έξυπνα κινητά σημαίνει ότι η χρήση των υπηρεσιών δεδομένων (όπως πλοήγηση στο Internet από το κινητό) θα αυξάνεται συνεχώς. Από την πλευρά τους οι εταιρείες κινητής θα πρέπει μέσα από τα δίκτυά τους να μπορούν να εξυπηρετήσουν την αυξημένη ζήτηση χωρητικότητας. Πληροφορίες αναφέρουν ότι κατά την προηγούμενη χρήση η κίνηση data στις εταιρείες κινητής διπλασιάστηκε.
http://www.infocom.gr/2013/03/26/ayjanetai-h-didieidysh-tvn-smartphones/9604/
Moderator
Δημοσιευσεις : 6860
---
Καλημέρα σε ολους..

ξερουμε ποτε θα ερθει το Nexus 4 32Gbyte ελλάδα?
Δημοσιευσεις : 1
---
---
Εκτιμάει κανείς αν και πότε θα βγει το Galaxy S4 mini;;;πρέπει να κάνω την αλλαγή μου κι εγώ μετά από σχεδόν 10 χρόνια
Δημοσιευσεις : 9
---
Η αίτηση υπ'αριθμόν 20130076612 αφορά την κατασκευή ηλεκτρονικών συσκευών οι οποίες θα περιβάλλονται από οθόνη αφής με δυνατότητα multitouch. Συγκεκριμένα περιγράφει μια εύκαμπτη οθόνη που περιβάλλεται από εύκαμπτο γυαλί για την προστασία της. Διαθέτει λειτουργία multitouch και βασίζεται σε τεχνολογία AMOLED. Η συσκευή θα έχει αισθητήρες ώστε να αναγνωρίζει ποιά πλευρά κοιτάει ο χρήστης, έτσι ώστε να ενεργοποιείται αυτόματα η συγκεκριμένη πλευρά.
Άραγε ποιον κωδικό θα έχουν τα μελλοντικά iPhone με τις κυρτές γωνίες? iPhone 10?
ή μάλλον θα τα δούμε στο εγγύς μέλλον ????
Πηγή:
http://www.zdnet.com/apples-new-iphone-wraparound-display-no-buttons-7000013282/?s_cid=e004
Δημοσιευσεις : 169
---
---
Blurred images of Nokia EOS leaked; may launch on July 9
While we are waiting to hear about the future of Nokia camera phones, it hardly ever comes in news. While there have been rumours for quite some time now that the next edition would be a Nokia EOS, the specifics of the device never surfaced. Now we some blurred images of what is said to be the Nokia EOS.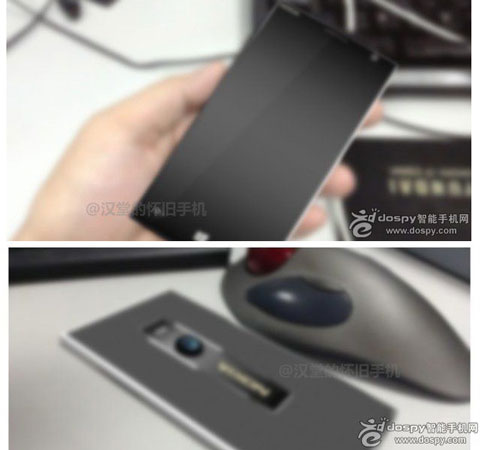 According to some pictures leaked by a Chinese site, the alleged Nokia EOS is shown. While the device looks quite plain and thinner than expected, it is said to be an advanced production stage device. Apparently, the Nokia EOS is expected to come is two versions, one for AT&T which would release on July 9 and the other would be the global release later in September.
Like the Nokia 808 PureView, the Nokia EOS is expected to feature at least a 41 MP camera, but the bump of the camera cannot be seen in the leaked images. Also the Nokia buttons along the right side of the device are not visible.
Nokia to Unveil Tablet Along with EOS Smartphone
When Nokia unveils its EOS smartphone, it may have to share the spotlight with another device. According to Nokiapoweruser, Nokia could announce a tablet at the same event. But the report keeps the door open to the tablet also getting its own announcement albeit in a very similar time frame.
Little is known about the tablet itself at this point but it is likely to be powered by Windows 8. It may have already surfaced back in April, showing off an exclusive "Adidas" app.
As for the Nokia EOS, it may launch as the Nokia Lumia 950. The report adds that it will come with a 41MP camera sensor very similar to the one first seen on the Nokia 808 PureView but sporting a number of improvements.
Both the Nokia EOS and Nokia tablet are should be announced sometime in July. In preparation, both are reportedly currently undergoing testing at AT&T as well as in other markets.
Acer Iconia W3 hands-on preview
Moderator
Δημοσιευσεις : 6860
---
Toshiba Excite tablets announced: Excite Pro, Excite Write, Excite Pure, running Android 4.2
We're continuing to see new devices being unveiled and now it's turn for some new Toshiba Excite tablets. The manufacturer announced three new Android-powered slates joining the family: the Excite Pro, Excite Write and Excite Pure, all ten-inchers running version 4.2 Jelly Bean.
The Toshiba Excite Pro (above) and the Excite Write (below) are basically one and the same tablet, though not really. Screen resolution is 2560 x 1600 on both and they pack an Nvidia Tegra 4 chip, 2GB of RAM, 32GB of internal storage (expandable via MicroSD), as well as an eight-megapixel main camera. Toshiba is calling out the premium audio in the slates, provided by Harman Kardonstereo speakers.
The Toshiba Excite Write though features a touchscreen digitizer for precision pen and handwriting, meaning it raises the bar and puts up a solid competition for Samsung's Galaxy Note 10.1. The "TruPen" will not be housed within the tablet though but will land with a TruNote application suite.
The Toshiba Excite Pure on the other hand is the lowest-end among them, featuring modest specs which include 1280 x 800 resolution, Tegra 3 processor, and 1GB of RAM, 16GB of internal storage, and a three-megapixel main camera.
The Toshiba Excite Pure will cost $299.99, the Excite Pro $499.99, and the Excite Write $599.99 MSRP. All three Toshiba Excite tablets will be available starting June 25, 2013.
Sony introduces Xperia M mid-range Android phone
In all the sea of announcements from Computex, today Sony introduces Xperia M Android phone. It is a mid-ranger which will also be available in a dual-SIM setup, as the Xperia M dual. Black, white, purple (and yellow for the single SIM version) will be the color choices and the phone, together with the dual-SIM version, will land worldwide starting the third quarter of the year.
Specs of the Xperia M include a four-inch screen with FWVGA resolution (at 854 x 480 pixels), dual-core Qualcomm Snapdragon processor clocking at 1GHz, as well as 1GB of RAM. There's also 4GB of internal board storage (expandable via microSD), five-megapixel camera with Sony's own Exmor RS sensor and Android 4.1 as the platform of choice. Usual suspects include Bluetooth 4.0, WiFi, and NFC. Measurements are 124 x 62 x 9.3 mm, 115 gr., and a 1.750mAh battery.
Qualcomm's Snapdragon 800 chip coming soon to Windows RT 8.1 devices
Qualcomm has announced today that their high-end Snapdragon 800 chipset will be shipping in Windows RT 8.1 devices "later this year", becoming the third chipset - alongside NVIDIA's Tegra 3 and Qualcomm's Snapdragon S4 - that supports the platform. The Snapdragon 800 is the fastest ARM-based chip in Qualcomm's portfolio, combining four Krait 400 CPUs at up to 2.2 GHz alongside an Adreno 330 GPU and 3G/4G LTE radios.
Aside from speed improvements found in the Snapdragon 800's CPU, memory and GPU, the chip is also said to be more power efficient than Qualcomm's last-generation offerings. Also of note is the chipsets capability to drive displays up to a resolution of 2560 x 2048, which should allow Windows RT machines to feature high-resolution panels for the first time, while 4K encoding and decoding is also natively supported.
Luis Pineda, senior VP of product management, computing and consumer products at Qualcomm, said they are "excited to be supporting Windows RT 8.1 with our flagship Snapdragon 800 processors" and that the chip will bring "support for new Windows RT 8.1 features and services.
"Meanwhile, Mike Anguilo, Corporate VP of Planning and PC Ecosystem at Microsoft, said they "are excited to continue working with Qualcomm Technologies on the next iteration of Windows RT 8.1".
Moderator
Δημοσιευσεις : 6860
---
---
Μελη σε συνδεση
Μέλη σε αυτή την Δ. Συζήτηση : Δεν υπάρχουν εγγεγραμμένα μέλη και 1 επισκέπτης